In the last month or two, I've taken to using my MacBook Pro with an external monitor, keyboard and mouse, both at home and at my office. I don't find a second monitor all that useful, so I went looking for a stand for the notebook that would minimize its footprint while not blocking access to its IO ports or DVD slot.
The purpose-built products I came across where either stunningly expensive, unavailable, or both. A friend suggested a cookbook holder, which sounded promising, but the wire holder I have was too flimsy for my largish (17″) notebook. But in searching for similar holders, I came across this: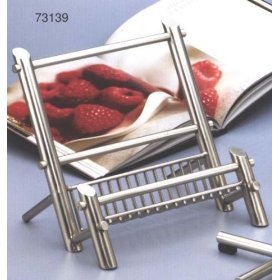 It's available via Amazon for $17 plus shipping. It's sturdy, stable and attractive. I now have two, and recommend them for anyone with a similar application.
(On a related note, I was pleased to discover that you can get a very nice monitor for very little money, as long as you stay under 24″ or so. Even 24″ isn't all that bad, but 22″ seems like a real sweet spot right now. I bought an HP w2207h for home use.)