Matthew Yglesias has a post on The Declining Demographics of Suburbanism, which by all means read, but what caught my eye was this graph: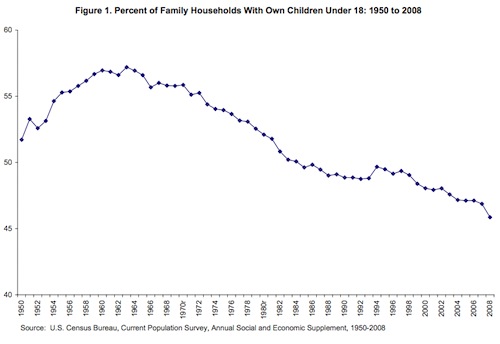 The change isn't quite so dramatic as it appears at first glance (it's based at 40%), but it's dramatic enough. There are two relevant trends, say the Census Bureau.
Increases in longevity — The average numbers of years of life remaining at age 30 increased about three years, comparing those age 30 in 1960 with baby boomers who turned 30 in 1980 (Table 11 [PDF], U.S. Life Tables, National Center for Health Statistics). As adults live longer, a larger proportion of married couple households will be those who are older and either childless, or whose adult children live elsewhere. In 1968, 29 percent of married men were age 55 and over, as were 22 percent of married women. In 2008, 38 percent of married men were 55 and over, as were 33 percent of married women.

Increases in childlessness — The percentage of women age 40 to 44 who were childless increased from 10 percent in 1976 to 20 percent in 2006. (Supplemental Table 1 [Excel], U.S. Census Bureau).
Our local school district's enrollment has declined steadily since 1996; I figure there must be some relation. Of course, the percentages shown are of an increasing population, so again the absolute numbers are less dramatic as well. Still.