There's a local (Half Moon Bay CA) joint that specializes in chai, but I found their product cloyingly sweet, with no real bite. Thankfully my brother introduced me to Sattwa Sun Chai (he serves it in his Café Zombie in Palo Alto), and now all is well.
Sattwa describes it thus.
Sun Chai

Exquisitely blended using Organic Fair Trade Certified Black Tea, and organic spices of cardamom, cinnamon, ginger, black pepper and cloves, Sattwa Sun is the finest, tastiest, masala chai on the market. Sattwa Sun is a cup of pure love dedicated to serious chai drinkers around the world! Fifty great servings per bag.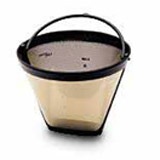 The instructions are simple: bring water and milk to a boil, add the chai and simmer, strain and add sugar. I steep for an hour (on low heat) instead of the recommended seven minutes, and am generous with the chai, stingy with the sugar. A gold coffee filter (like this one) works fine as a strainer. It keeps well in the refrigerator; steam or microwave to heat it up.
Or stop by Café Zombie and give it a try.