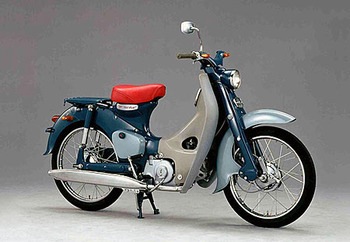 Wired notes the Honda Super Cub's 50th anniversary and 60-millionth unit sold. That places the first sales in 1958, which also happens to be the year I moved (with my family) to Tokyo.
The Cub must have been an immediate hit, because I remember them as ubiquitous. Years later, attending New College in Sarasota Florida in the late 60s, I briefly owned a derivative of the Cub, one without the step-through styling and (am I remembering this right?) a 90cc engine.
A brief search on eBay turns up some Cub parts, gasket kits and such, and Cub-themed Zippo lighters and refrigerator magnets. But no Cubs.